SPECIAL FEATURES
Tia Carrere
Margaret Cho
Church of Rhythm
Hiroshima
James Hong
Bruce Lee
Jet Li
Keye Luke
Martial Law
Minoru Miki
Lea Salonga
George Takei
Tamilyn Tomita
Ming-Na Wen
Anna May Wong
Russell Wong
HOME

SECTIONS
Actors
Actresses
Astronauts
Athletics
Authors
Business People
Cartoonists
Community Leaders
Dancers
Directors
Fashion Designers
Film Festivals
Military
Musicians
Newscasters
Politicians
Television Shows

















SPECIAL FEATURES
Tia Carrere
Margaret Cho
Church of Rhythm
Hiroshima
James Hong
Bruce Lee
Jet Li
Keye Luke
Martial Law
Minoru Miki
Lea Salonga
George Takei
Tamilyn Tomita
Ming-Na Wen
Anna May Wong
Russell Wong
HOME


SECTIONS

Featured Actors
Featured Actresses
Featured Directors
Featured Musicians
Book Authors
Cartoonists
Fashion Designers
Astronauts
Military Personnel
Newscasters
Politicians
Business People
Community Leaders
Athletics
Television Shows
Film Festivals



















J E T L I
A Chinese National Treasure
Article written by Suzanne Joe Kai
Co-Founder of AsianConnections
His martial arts moves are so lightening fast and powerful he takes the audience by surprise. I should know, I saw "Lethal Weapon 4" several times, in movie theaters in San Francisco and Newport Beach and each time the audience gasped at this newcomers' breathtaking quickness and grace. I say "newcomer," but Jet Li is no newcomer in Asia.
He is a national treasure in China, a five time martial arts champion, and a huge box office hit already starring as a hero in more than 25 movies under his (black) belt produced by Hong Kong filmmakers.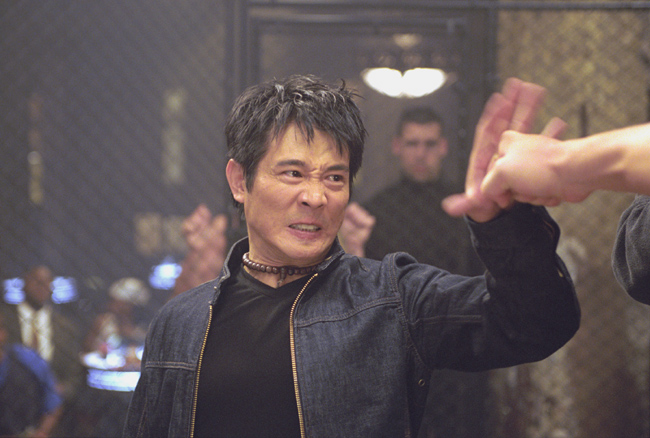 Jet was born in Beijing and enrolled in the Beijing Amateur Sports School for wushu training at the age of eight. His mentor, Coach Wu Bin, designed extra and more rigorous exercises for Li, who demonstrated the natural talent and perseverance required for wushu training.
After three years of intensive instruction, Li won his first national championship for the Beijing Wushu Team. As part of a world tour in 1974, he had the distinction of performing a two-man fight for President Nixon on the White House lawn. For the next four years, Li remained the All-Around National Wushu Champion.
He was discovered for films by Director Hsin Yen and offered the starring role in the historical epic Shaolin Temple, about a young monk whose father is killed by the Emperorís nephew. The film was an enormous success that spawned two sequels and propelled Li to instant stardom.
Jet made the leap into Hong Kong films with the critically acclaimed box-office sensation Once Upon a Time in China for director Tsui Hark, which vaulted him into superstardom. The film proved so popular that Li starred in three of its five sequels, including his last Asian-produced film, Once Upon a Time in China and America.
Jet made his English-speaking film debut in the 1998 mega-hit franchise Lethal Weapon 4. The role was a complete change of pace for Li, who, in his previous 25 films, had always portrayed the hero.

"Lethal Weapon 4," a hilarious but insultingly stereotypical comedy with all the usual Hollywood spectacular car chases, buildings blowing up and good guys chasing bad guys co-starring Mel Gibson and Danny Glover, is Jet Li's English speaking debut into major American motion pictures. And yes, Hollywood Director Richard Donner cast Jet Li as the stereotypical bad guy, a villainous Asian triad crime lord. At the recent National Association of Asian American Professionals 8th Annual Leadership Conference in Seattle, Asian American working professionals in mainstream media decried with frustration that Hollywood is still portraying Asians in degrading and one-dimensional roles.
After receiving the gratuitous "bad guy" photo of Jet Li smashing Mel Gibson's face from the film production studios, AsianConnections spent several weeks requesting a smiling photo of Jet from the Hollywood studios. Finally, an industrious pr representative discovered the precious single photo you see of Jet Li smiling and victoriously and graciously hand messengered it to us. Thanks to the folks at Warner Brothers and super pr agents Rogers and Cowan, for also going the extra mile for us. Jet Li is a leading man if we ever saw one, a handsome and sexy one too, and he deserves to be smiling on the front page of our inaugural launch.
The rest of Hollywood may be noticing, too that Jet Li burns up the screen, and not because he plays a good villain. Hollywood may be waking up to the ring of the box office cash registers spurred by their Asian actors. Like any shrewd for-profit making business, Hollywood columnist Michael Fleming of Daily Variety reports that audiences went wild over Jet during test screenings of "Lethal Weapon 4" and Warner Brothers was quick to exercise an option on his contract to capitalize on his appeal and is now keeping him busy filming a second major motion picture.
Warner Brothers' "Romeo Must Die," which Fleming describes as producer Joel Silver's version of Shakespeare's "Romeo and Juliet" was originally conceived for a Caucasian star and is being re-drafted for Jet Li. "Romeo Must Die," effectively delays Jet's starring role in Universal Studios', "Art of War" movie which is now scheduled to be filmed right after shooting is completed on " Romeo Must Die."

While there was no news on the final storyline of Jet's next two movies, his Hollywood spokesperson assures us, Jet is cast as the hero and in at least one of the films, he gets the girl! Congratulations, Go - Jet!
Li was born in Beijing, where at the age of eight he was enrolled in the Beijing Amateur Sports School for wushu training. After several years of intensive instruction led by his mentor, Coach Wu Bin, Li won his first and subsequently four more national championships for the Beijing Wushu Team. As part of a world tour in 1974, at age eleven, he had the distinction of performing a two man fight set on the White House lawn for President Nixon and Secretary of State Henry Kissinger.
Jet Li's entrance into American films has special significance to those of us who care about stronger and better Asian representation in the media. As an Asian American who has been working within America's mainstream broadcast journalist community, I have been more than an impartial observer of Asians in the media. Years ago, as an official board member of a state film commission, I visited the desert set in Tucson, Arizona of "Cannonball Run" and was excited to meet a young new Asian star named Jackie Chan. I still clearly remember that my friends accompanying me to the shoot and I were thrilled to get a glimpse of Jackie and shake his hand. The other movie stars, and there were plenty, including Burt Reynolds and Dean Martin were just gravy for the long, dusty drive through the Arizona desert. (We were all similar in age to Jackie, in our twenties and had decided we couldn't ask for his autograph because as members of the Governor's Film Commission, we had to act "dignified," even though stars and crew members alike, were busy taking photos and getting autographs from each other.)
We remember hoping that this film would be Jackie Chan's big break into American motion pictures, so we wouldn't have to rent those dubbed in English Hong Kong made films where people's mouths don't match the English translation. It wasn't to happen. It took him nearly fifteen more years to really make it in Hollywood as a big box office draw. Watch for AsianConnections' upcoming features and video clips on Jackie, his new inspiring autobiography and latest American movie, "Rush Hour " with Chris Tucker, his first in ten years.
While it has taken Jackie Chan, a martial arts master, comic genius and Asian mega star in his own right, many years to successfully cross the Pacific to star in mainstream American movies, we hope Jet Li can capitalize on his current momentum in "Lethal Weapon 4." Sure, we've read the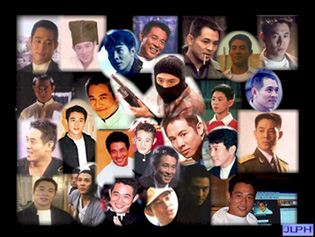 The usual cynical criticism particularly from the Asian press that he's been cast in yet another stereotypical role, but hey, chill out for just a moment guys, let's celebrate Jet Li's English-speaking American debut, tell Hollywood what a treasure they have in their hands, and actively encourage Hollywood movie producers and writers to create more films with better multi-dimensional roles for him as well as all other Asians.
Motion picture studios make money not only from U.S. audiences but increasingly depend upon a global audience to bring home the money. Message to Hollywood: we want to see Jet Li in more movies with better roles! Look at his close-ups in "Lethal Weapon 4," he's a leading man if we ever saw one! In San Francisco, three young women sitting next to me at a screening of "Lethal Weapon 4" told me they came to see Jet Li, not Mel Gibson or Danny Glover!
When Jet Li smiles on-camera you can see the potential of a Hollywood big box office star in the making. Let's buy tickets to go to his films, send him lots of fan mail of moral support* and let Hollywood know who they are dealing with.
To witness Jet in action, click HERE and HERE to witness small scenes from "My Father is a Hero."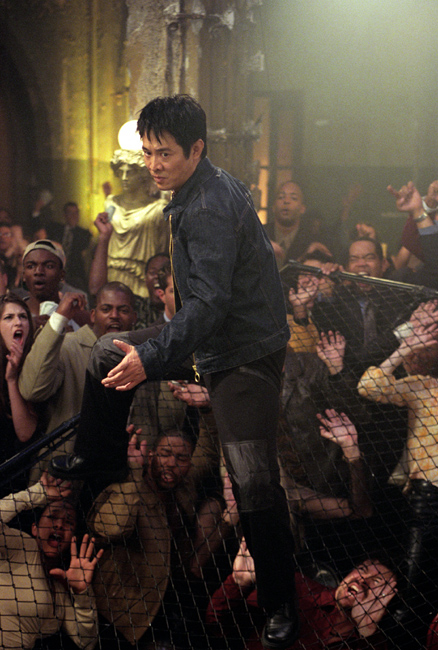 JET LI WEBSITES

"ROMEO IS DEAD" information can now be found by clicking HERE. The premise, which I'm sure everybody knows, is as follows: "Han Sing (Li) and Trish O'Day (Aaliyah) come from different sides of the world but they have a lot in common. Han has paid heavily for being loyal to his brother Po - it cost him his career in the Hong Kong Police and landed him in jail. Now Po is dead and Han is compelled to avenge him. The task will demand all of Han's mental discipline and martial arts skill plus help from an unlikely source -- O'Day's beautiful and rebellious daughter, Trish. Like Han, Trish loses the brother she loved to crime war. For Trish, the final struggle is not about revenge: it is about making the terror end before everyone else she cares for is dead."
LATEST RUMOR: Never mind if the movie doesn't have a script, or a director, or a star - the optimistic producers of The Green Hornet are busy lining up Jet Li to co-star in the remake of the film as Kato, the Hornet's karate-chopping sidekick (Bruce Lee's role). Variety reports that the film, based on the radio series and TV show about a crime-fighting crusader, has been in development for several years, and at one point had George Clooney attached to star. Stay tuned .
LATEST NEWS: In 2003, he is currently starring in acclaimed director Yimou Zhangís Hero, nominated for a Golden Globe for Best Foreign Language Film (China). Presently he is filming "Danny the Dog" opposite Morgan Freeman for director Luc Besson in Paris, and he recently starred in Kiss of the Dragon and The One in 2002.
MORE JET LI PICTURES
JET LI'S FILMOGRAPHY
Abbot Hai Teng (1988)
Black Mask (1996)
Dragon Fight (1989)
Dragons of the Orient (1988)
Fist of Legend (1994)
Fong Sai Yuk (1993)
Fong Sai Yuk 2 (1993)
High Risk (1995)
Hitman (1998)
Last Hero in China (1992)
Fong Sai Yuk (1993)
Lethal Weapon 4 (1998)
My Father Is a Hero (1995)
New Legend of Shaolin (1994)
Once Upon a Time (1991)
Once Upon a Time 2 (1992)
Once Upon a Time 3 (1992)
Once Upon a Time 4 (1997)
Romeo Must Die (2000)
Shaolin Kung Fu (1994)
Tai Chi Master (1993)
Top Fighter (1994)
High Risk (1995)
Jet Li Collection
My Father Is a Hero (1995)





Any questions regarding the content, contact Asian American Artistry
site design by Asian American Artistry
Copyright © 1996-2003 - Asian American Artistry - All Rights Reserved